First of all: This little procedure lasts two days, in addition, it amounts to three days to weld the board, it is certainly free time. Also have 24 hours.
I stared at the computer two nights ago, my disassemble/assemble, detachable not download the procedure on this board . Finally, just today! " today " Read the four tone 18 o'clock. Can let me find question! Having done for two nights, AD changes the control flow chart, can not go wrong at all! ! ! ! Ah! ! The fault is wrong in a small place, killed the place to unexpected.
Where is the concrete fault, please look for in the ensuing chapters! ! ! !
Function: STC12C2052AD AD changes C procedure PWM output function and succeeds in using.
Employ: AD find the voltage go on low-voltage protection ' Relay control PWM becomes direct current of pulsation of the direct-current volts chopping.
Board function: Charge battery of mobile phone.
LM317 stepping down and using, trickle is employed should be enough. Have no time to buy the gas switching tube, 9013 switches that used.
Drawing: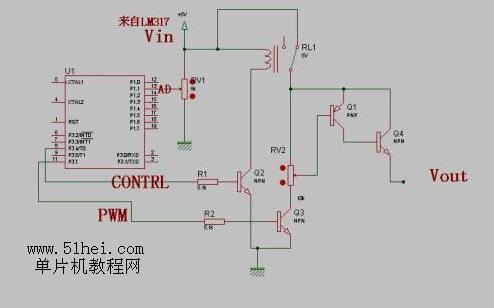 //The following is a successful procedure. If you need, apply your own project to, you need, can change io direct application only
//The intact edition download address of the procedure: http://www.51hei.com/ziliao/file/stc12c2052adde.rar
#include <stc12c2052ad.h